In one of our
last blog articles
, we already explained that a primer helps to fill in wrinkles and pores, hydrates, and makes the skin look more even and balanced. Also, by applying it correctly, you can extend the durability of your foundation.
Are there universal primers that are suitable for all skin types?
No, there are not. A primer is the precursor to foundation and should therefore always be adapted to the corresponding skin type.
Best primer for oily skin: silicone-based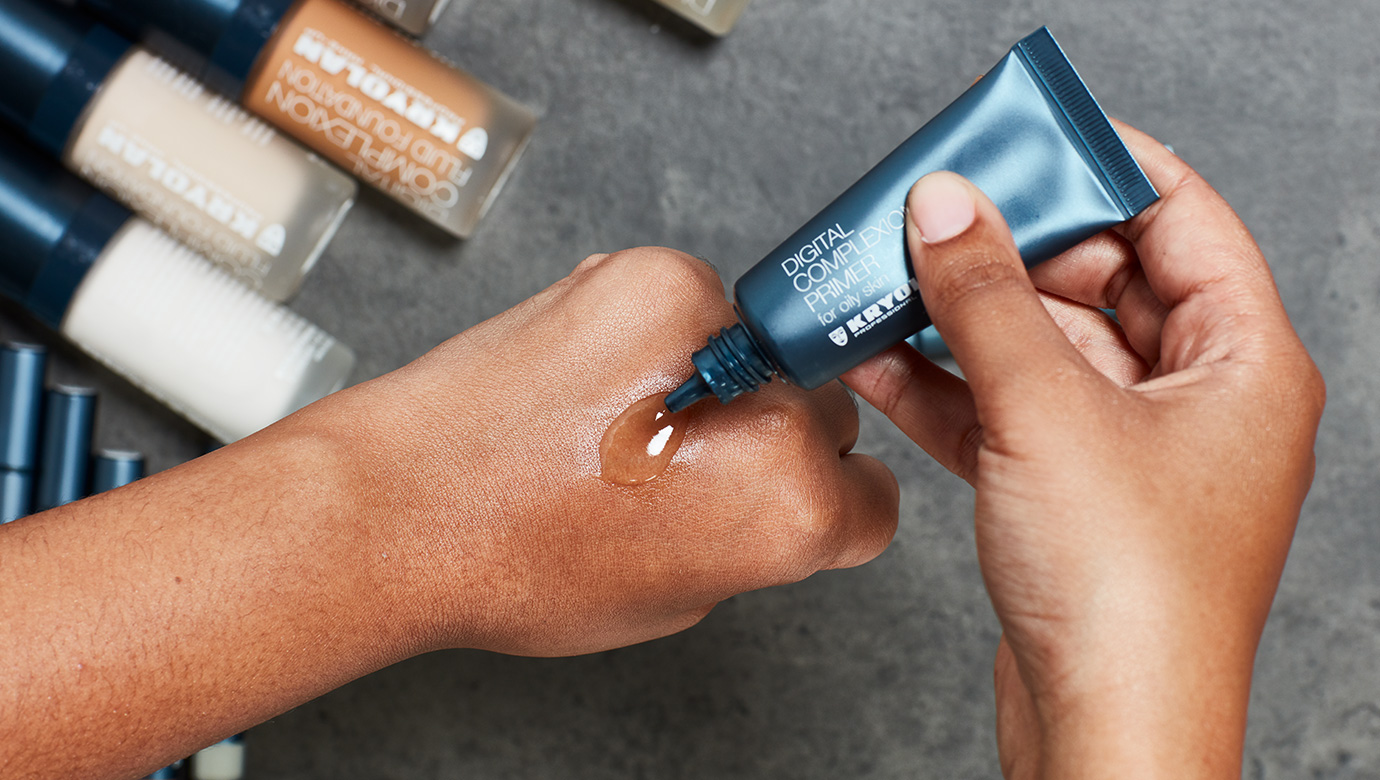 People with oily skin often struggle with imperfections on the skin's surface. The
Digital Complexion Primer for oily skin
has leveling fillers that act on a silicone base. This creates a very smooth, fine, slightly matt skin texture. The primer is composed of silicone elastomer, a solvent, and silicate, which in the end ensures that excess oil and sebum are absorbed. This improves the appearance of oily skin. Best of all, the primer is compatible with the latest camera technologies, which – when combined with make-up – makes your skin look like it's been softened.
Especially in combination with
Digital Complexion Fluid Foundation
, the primer shows its full effect.
Best primer for dry skin: water-based
In a primer for dry skin, hydrating ingredients are of great importance so that the result - i.e., the foundation - does not look dry. The
Digital Complexion Primer for dry skin
, for example, is water-based and contains anti-inflammatory ingredients that are ideal for moisturizing the skin. With the help of these ingredients, textured areas of the skin are visually smoothed, and mild skin irritations are reduced. In addition, protective functions of the skin are promoted. Here, too, it is crucial to apply the primer only to the affected areas.
The primer for dry skin works best in combination with our
Digital Complexion Cream Foundation
. In this case, avoid applying powder, as this can dry out your skin.
Are there any differences in the application?
Both Digital Complexion Primers can be applied with clean fingers, a brush or sponge. Since they are high-performance products, you only need a small amount on the corresponding skin areas. The dry skin primer can be used after the application of your day cream as well. Skip this step if you have oily skin.
Do you have combination skin? Then don't forget to check out our article about
multi priming.