Before
The skin should be cleansed entirely before applying the make-up. You can use Clean & Care Natural Micellar Water 120 ml for this.
Step 1
The second step is to cover the eyebrows with
Eyebrow Plastic
. Use a
Make-up Mixing Spatula
and apply Eyebrow Plastic first in the opposite direction and then in the order of hair growth. Smooth the surface with your fingers.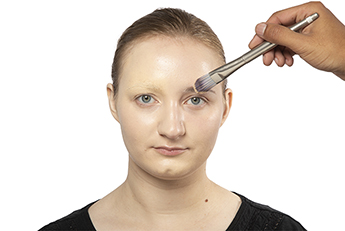 Step 5
Now, the eye area is highlighted. Use a very light tone from the same palette for this.
Step 7
Deepen the painted wrinkles with darker shades.
Step 8
Continue to use the Supracolors to add contour and highlight to the lips to accentuate the lines and add more of an ageing effect.
Step 11
Now, the lips are first painted in a lighter shade of Supracolor than the skin tone. Then paint the inside with
Supracolor 8 ml (lake altrot)
.
Step 13
Untie the model's hair and backcomb it for a tangled effect.