Step 1
Firstly, Clean & Care Natural Micellar Water 120 ml is applied onto a cotton pad and gently swept over the skin to remove any residues and oils. The skin is now prepared to start with the application of caring products.
Step 2
Dermacolor Moisturizer Cream is worked into the skin to balance and add hydration, making it ready for all base products to be applied on top. The Blue Master Ultimate Buffing Brush is used to ensure an even application.
Step 4
​In this next step, shade 03 from the Coloring Vision Palette 18 Colors (Vivid) is applied and blended along the lower lash line using the Blue Master Eye Shadow Contour Brush Small.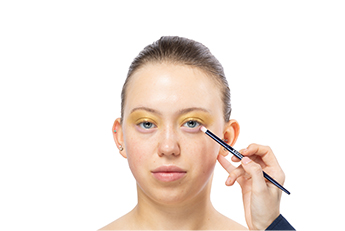 Step 5
​This cream base is then set into place with the
Eye Shadow Matt (candy)
. Buff it into the skin with Blue Master Eye Shadow Contour Brush Small.
Step 6
​Now,
Supreme Volume Mascara (black)
is applied to the upper lashes by fully coating the Training Brush and painting ​the product through the lashes. This removes any pigment that may have fallen onto the eyelashes and also creates separation and definition.
Step 7
Moving on to the skin, the
Digital Complexion Fluid Foundation
(here O12 and O14) are mixed together to create the perfect shade. We recommend that you mix together the shades that you require. This mix is then buffed into the skin using Blue Master Dual-Fiber Blending Brush Large to create a flawless yet natural finish. Stipple a thin layer onto the skin and add more if needed.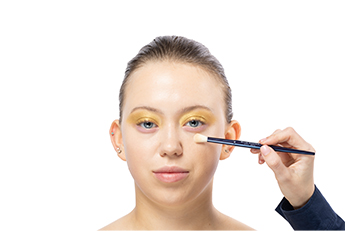 Step 8
The
Digital Complexion Concealer
(here in O12) is applied to the area under the eye and blended towards the temple to add additional coverage and brightness if needed. The Blue Master Angled Blending Brush is used for this step. Again, only apply the product in very thin layers.
Step 9
A soft flush of color is applied to the cheekbones and bridge of the nose using 03 from the same Coloring Vision Palette 18 Colors that was used on the eyes. This color connects the individual details together. Use Blue Master Contoured Blusher Brush for this application.
Step 11
Next up are the lips. A small detailing brush is used to line and soften the application of the
Faceliner (20)
. Draw around the natural shape of the lip.
Step 12
​
Shimmering Event Foundation
in Pearl and shade 03 from the Coloring Vision Palette 18 Colors (Vivid) are mixed together and worked into the center of the lip to add delicate color and shine. A Blue Master Fan Brush is used for this step.
Step 13
​To create the very trendy wet look effect to the lips, apply
High Gloss (crystal rose)
across the entirety of the lip. This will add a wet look glazed finish.